So 4 days before my birthday, Colin handed me an envelop which had this inside: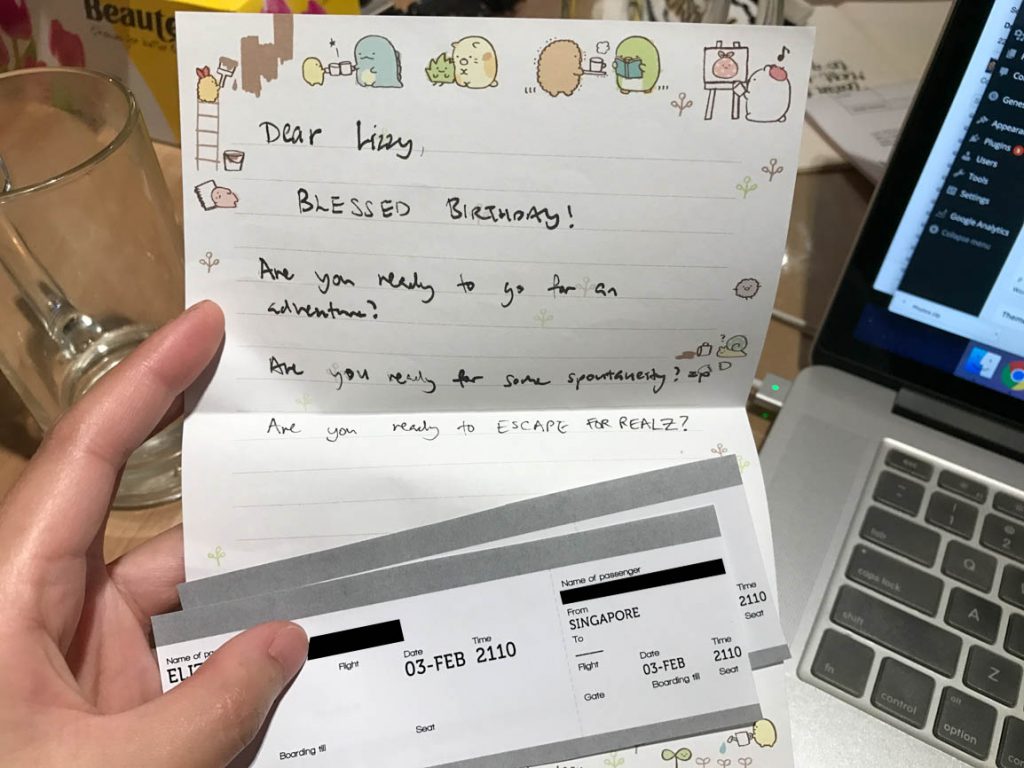 He'd planned a surprise trip to somewhere and wasn't going to tell me where we were going. My first guess was Bali, but I also figured that since he had secretly arrange for me to take only one day of leave, we weren't going to go very far (and Bali was too expensive for a weekend holiday).
I only found out that we were going to CEBU when we checked-in at the airport a few days later. Which… I must admit, I knew nothing about.
A 3 and a half hour flight into the wee hours of the morning later, we'd landed at Mactan International Airport (Cebu), and so began our weekend escapade.
But I'm sure you're not here to read about every single romantic detail of our trip, so here's the low-down on what you actually want to know about visiting Cebu:
1. Accommodation
Colin booked us an airbnb at the Movenpick residences. Cebu itself is a pretty big place, and Mactan is the touristy-iest spot on the island, it being a little island itself joined to the main Cebu island by bridges. The Movenpick and Shangri-la hotels are situated very near the airport and a short 20-minute drive away. The cost of accommodation was exorbitant, to us, of course (at least S$250-$500 a night for hotels like Movenpick and Shangri-la). So airbnb was Colin's obvious choice ($70-$150 a night).
Many of the good hotels in Cebu have this thing called a "day-use rate", which all seemed to be around 2000 pesos (S$57) per person. Since we were staying in the Movenpick residences and did not have access to the hotel amenities, we paid the 2000 pesos to use the Movenpick facilities, which included the beach, pool, a buffet lunch at the hotel restaurant and a generous scoop of Movenpick ice-cream that you can redeem during the afternoon.
(Above: Movenpick's modestly sized beach)
Later that evening, we went to Shangri-la (a 3 min drive away) to have a nice dinner to celebrate my birthday, and it was then that we realized how much bigger and better the beach and pool at Shangri-la was compared to Movenpick's, all for the same price of 2000 pesos per person.
So our pro-tips are:
Airbnb is a great choice if you're on a tighter budget. The rooms/utilities are decent and you can just pay day-rate to use a good hotel's facilities.
If you're planning to use the hotel facilities by day-rate, Shangri-la's is better!
2. Transport
We traveled by Grab Taxi, Grab Car and Uber for the duration of our trip. You can opt to pay them by cash, but be prepared to have smaller notes as they don't usually have much change for big notes. Colin, being Colin (designer, researcher, general man of curiosities), tried all the different options to see how they compared to each other.
Our conclusions:
Grab Taxi or their official local "white" taxi (cheapest, about $3 for 8km) is quite cui (poor), mainly because the taxis are all rather old, dirty, and sort of falling apart. The taxi that got us from the airport had a boot that wouldn't shut well, and every bump and hump we went over, I'd look over to check if our luggage was going to fall out the trunk while we swerved dangerously towards our hotel. Grab Taxi drivers also don't speak much/good English, so don't expect much of a conversation or to be able to direct them well.
Uber ($4 for 8km) was fairly decent. They only offer the lowest tier of Uber (UberX) compared to the range that we are familiar with in Singapore. The cars were slightly cleaner, the drivers spoke a bit more English, and it was a more pleasant ride. Like riding in an old Singapore taxi that hasn't washed its insides nor outsides for a protracted period of time. But still cleaner than Grab Taxi.
Grab Car ($7.50 for 8km) was surprisingly the best experience for us. We had some great, chatty but polite drivers, clean cars and smooth rides.
Price-wise, a Grab Car ride would cost you less than half of what you'd pay in Singapore for the same distance covered. We tipped most of our drivers because we paid by cash and we didn't want to accumulate the smaller notes. Those extra 100-200 pesos really made their day and we were more than happy to be able to tip.
3. Food
Soooo… I think we as Singaporeans generally have very spoiled palettes because y'know, eating is our national hobby and all. So we found ourselves more often disappointed with the food we had even though TripAdvisor / Foursquare (read: angmoh tastebuds) reviews were raving about various eating establishments that we'd visited.
The Sails (Movenpick):
What it is: Lunch buffet at Movenpick, price part of day-use package ($57). Totally not worth it, decent range but exceedingly averagey.
Tides (Shangri-la):
Dinner buffet at Tides at Shangri-la (S$70++/pax). The range was comparable to Singapore's The Line, the service was great, BUT the quality and standard of food was again, not what we were expecting for the price we paid. The international cuisine was better than average but wasn't what we were expecting for the price we paid. The buffet was only somewhat redeemed by the fresh-ish sashimi and above average desserts. You can get a taste of the local dish Lechon, which is similar to our Chinese roast pig but with a different array of spices. We had a taste of Lechon at both Movenpick and Shangri-la and it was underwhelming and slightly salty, though there are many other better places to eat it (that we didn't try).
The buffet also has this really cute section that's designed to be a kids buffet (right-height for the kiddos too) that has food such as pasta and nuggets. My observation though was that most parents were feeding their kids food off the regular buffet (too much junk food in the kids section maybe?).
Larsian:
This was easily the best meal of our trip. After we ate here, I told Colin I knew what was missing from all the hotel food we'd be having: SOUL. Concept-wise, it's similar to the Satay club experience of eating at Lau Pa Sat, which is to say: open-air hawker-type setting, territorial stall owners, touts from every stall accosting your path the moment you walk in.
Each stall has their own seating area and the food is all out in the open, so we can't speak for the hygiene of what we consumed, but I can assure you that it.tasted.amaazing and we didn't end up with diarrhoea.
These skewered barbecued meat are pretty much ubiquitous in Cebu, along with the signature Lechon. They taste like meat drenched in char siew sauce. As you drive by the streets of Cebu every other corner stall seems to be offering one or the other. But we can't speak for the hygiene of those stalls and they looked significantly less hygienic than what we observed at Larsian (which was at least a contained hawker of sorts).
Each stick of barbecued pork would set you back only 5 pesos, while the more expensive items on the list such as the stuffed squid and marlin fillet would be around 120-160 pesos each. But it was so good. I would eat it again, every night, in a heartbeat, assuming I continue the diarrhoea-less streak. Unfortunately we only had a couple of nights in Cebu so we only had the chance to make one trip here. And dinner cost us S$14 for two. TAKE THAT, Shangri-la, I'm talking to you.
Mooon Cafe
Mooon Cafe is a pseudo-Mexican chain of restaurants. Read about it on a famous online food blog. We had it as our last brunch before boarding our plane back to Singapore. I don't know how to describe the food except that it was not particularly photogenic nor appetising. (Though, again, TripAdvisor reviewers are very kind and evidently not Singaporean.) But it is a cheap place (relative to Singapore) for some ribs and steak (<$20 for two). The nachos are really lame, do not order them.
Ibiza Beach Club
Ibiza is at Movenpick and boasts some fun, netted seating areas that overlook the shallow waters next to the hotel beach. You can see little fish swimming around below you and its pleasant and breezy. It's a nice place to unwind and have a drink. They also have live bands on the weekends though I'm either not part of the generation or I absolutely do not recognize the songs they play. There's also a small jacuzzi right in the middle of the club if you're feeling particularly exhibitionist or confident of your body.
4. Activities!
Whale Shark Watching
We did this with Island Trek Tours, where a return trip from our hotel to Oslob, a 30 minute session with the whale sharks, a visit to a local waterfall and a day trip to Bluewater Sumilon Island cost 6000 pesos per person. Are there cheaper ways to do this? Yes definitely. When we arrived, we realized that the whale shark experience was only about 500 pesos, the waterfall about 50 pesos, and the day use rate for Sumilon was also the standard 2000 pesos. If you somehow want to figure out your own transport options to explore the area, there's cheaper ways than what we did.
The Island Trek Tours offer a tour guide that'll basically make your transitions from whale shark watching, to the waterfall, island and back to your hotel a seamless experience. My observation was that we got a rather young and inexperienced guide (he didn't look any older than 17) whose English was so-so. Some of the older more professional guides were leading Caucasian couples. Maybe they think Singaporeans/Asians are more stingy so the youngest got thrown that lot? 😛
The day started at 3.30am with a pick-up at our hotel. Driver was late, so we set off at 4am and literally sped at over 100kmh through Cebu city into the hilly region of Oslob. Fortunately we slept through most of it, because every time I opened my eyes we were swerving dangerously through single-lane traffic on the side of a cliff. The day started at 3.30am with a pick-up at our hotel. Driver was late, so we set off at 4am and literally sped at over 100kmh through Cebu city into the hilly region of Oslob. Fortunately we slept through most of it, because every time I opened my eyes we were swerving dangerously through single-lane traffic on the side of a cliff.
We watch the sunrise from the Island Trek Tours HQ. A simple mango sticky rice is served with instant coffee, and the view of the sea informs us that boats are already out there with the whale sharks. We were told that the sharks would hang out there from 6am-12nn every day.
When you get to the embarkation point, which is swarming with backpacking Caucasian types and droves of Chinese tour groups, legalities mandate that you must listen to a briefing that tell you the rules of engagement when you get out there in the water with the whale sharks. There is a sense of organised chaos in the midst of all that is happening. You pay your 500 pesos (or in our case, our guide did so for us), you get a queue number, and as each boat returns, you wait for your number to be called, grab a soggy life vest, and head into the tiny row boats.
All things considered, it's pretty clear why the entire thing is controversial to environmentalists. You are told that you have to stay at least 4m away from the sharks when in the water (most people opt to snorkel with the sharks), and that you're not allowed to have sunblock on as that could be detrimental to the sharks. But neither rules were enforced on site.
We still enjoyed the experience of being this up-close with the very friendly sharks. The feeding boats (different from the tourist boats) would go around throwing scoops of tiny shrimp at the whale sharks, who follow them around like giant puppies waiting for treats to be handed out (again, another reason why environmentalists hate this).
Tumalog Falls
After whale watching, your driver and guide grab you from the chaos, and a 10-minute ride later, you end up at the top of a slope where you jump out of the car and literally onto the back of a motorcycle to get to the waterfall (path only accessible by walking and motorbike).
You must understand that this sua ku Singaporean who has obeyed her mother's order her whole life to not ride a motorcycle (or date a boy who rides a motorcycle) suddenly has 2 seconds to figure out how to pillion on a bike. Another 2 seconds later, as she's clinging on for dear life, she also finds out they're going up and down some slopes that might as well be at a 45-degree incline while sure death hangs on the edge of the cliff about 1m to your right. #norailings #truestory.
A glimpse of the experience (not our video):
So was the payoff of the waterfall worth it?
Uh, I guess mai hiam buay pai la. (If you're not fussy, its alright.) It was a small-ish waterfall. Cooling and cool water with a slushy ground. But nothing to rave about. The heart-stopping motorcycle ride back up was definitely more memorable.
Bluewater Sumilon Island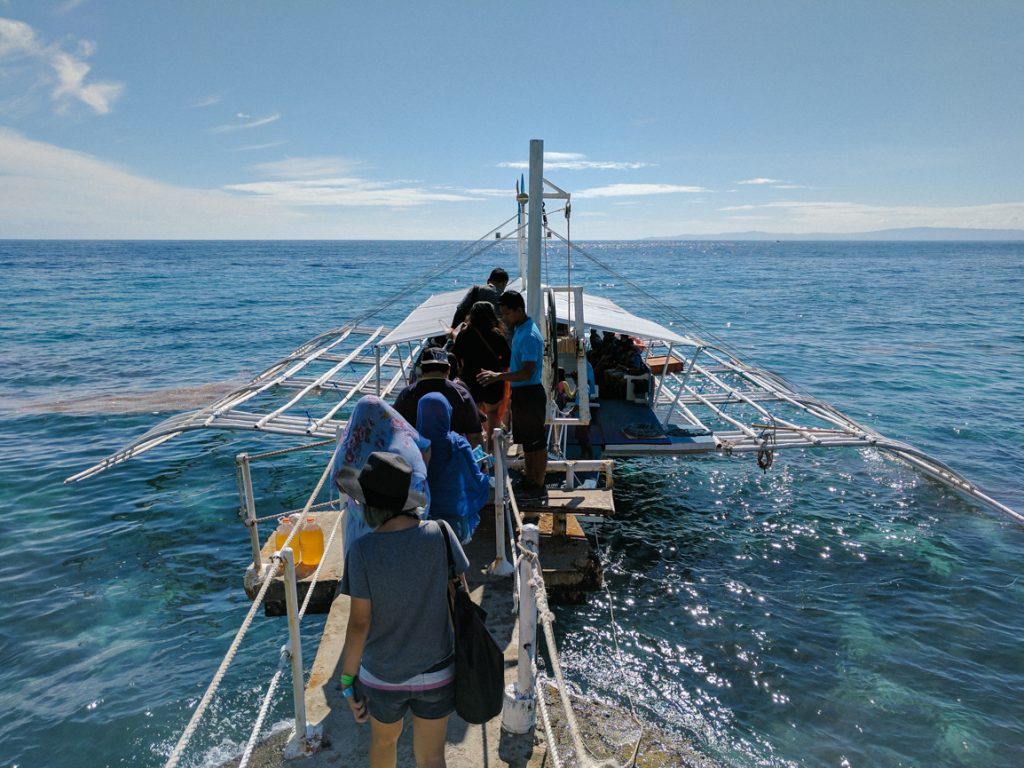 Now we're talking! After the waterfall, we head to Bluewater's private jetty. There's a schedule of transfer timings to get to the island and back. The island is really, from the mainland, one of many tiny islands that make up the Philippines. Room rates on the island scale upwards of S$400.

Our first order of the day when we arrived was to head to the sand bar. While most of the island is a considered a private island operated by Bluewater, the only part of the island that the public can also use is the sand bar on the western end of the island. A sand bar is basically nature's idea of a swimming pool. It is ridiculously photogenic, beautiful, and chock-full of other tourists (who take other boats and dock there to use the sand bar). It is also full of coral-y, rocky things. So if you have booties, bring 'em. Or you'll end up gingerly attempting to side-step all the rocks/corals/shells like us.
This island is just absolutely GORGEOUS in every aspect (on a good, sunny day, that is). The water is 50 shades of blue and just breathtaking. But oh, skip the swimming pool. It's tiny. And you're supposed to be using the beach anyway.
Lunch was part of the day-use package, and it was an extremely modest buffet which could only be described as cai png (economical rice). "It's okay," you think. "I'll just pack my own food to bring along." Nope can't do. There's apparently a corkage fee for any food you bring onto the island, and they inspect your bags before you board the ferry over. So don't bring along any overt picnic meals with you when visiting Sumilon.
After lunch, we decided to trek around the island, which has 3 different paths (easy, moderate, hard) marked out which you can try. Can I just say this is not a walk around a paved park? Yes I'm speaking to you Singaporeans. This is not Sungei Buloh Nature Wetlands Reserve. In Singapore you barely have to be in the correct footwear to walk at any of our parks because they're so planned and manicured. The paths cut through the forested area and head upslope, and most of the terrain consists of sharp, dead, coral. Yas. We were both in slippers so we had to tread very carefully. But the views were TOTALLY WORTH IT. Also because no one else seemed to think trekking is a good idea, it was a nice, quiet peaceful walk during which we only encountered one other ang moh attempting the same thing during our walk around the island.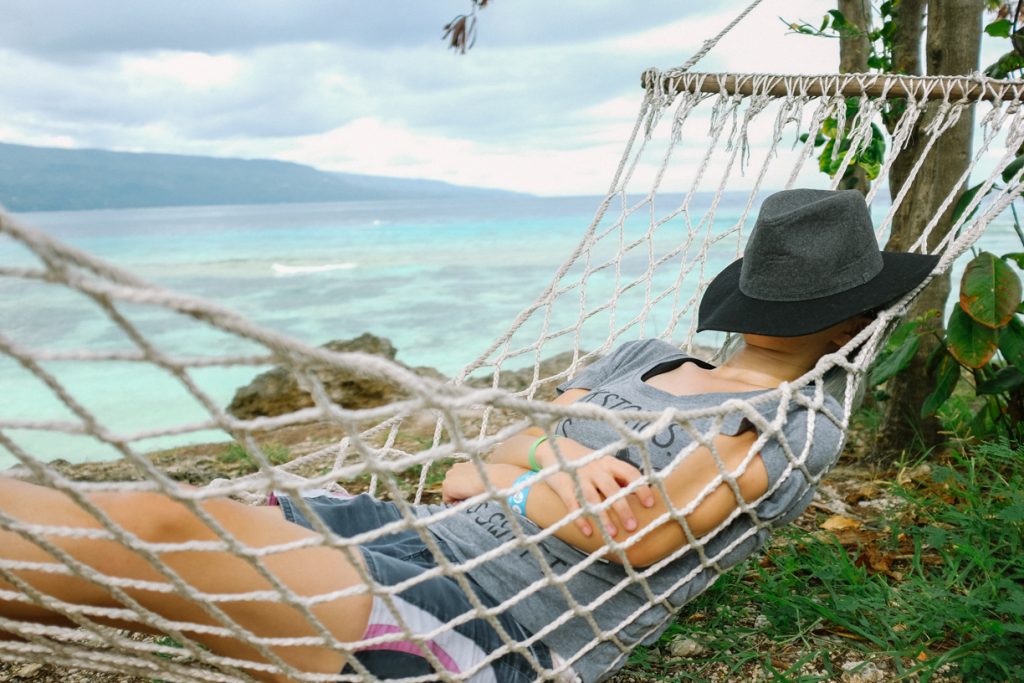 You can also relax in one of the many hammocks facing the sea. Very nice.
In summary, Sumilon is worth the experience! If you'd prefer to do more island-hopping nearer to Mactan instead, Cebu Island Hopping was another option that we considered for our day activity.
5. Safety
We generally had a pleasant experience, though we didn't roam the streets by ourselves very much, choosing to Grab/Uber between locations. We did notice that all our Grab/Uber drivers immediately lock their doors once we've stepped in, and they also lock their car doors when they step out to help us with our lugagge, so I guess its still good to be mindful of your belongings. 🙂 The hotels also have security guards who will inspect the taxis and cars thoroughly with a guard dog whenever you enter their compounds.
6. Other fun facts
Not being the most well-versed with Philippines' history, we were intrigued and very curious as to why there seemed to be THRONGS of Koreans on the island, to the extent that menus/signages in the hotels and airport would feature Korean/Japanese translations. But apparently, Koreans settling down and visiting Philippines is like a thing. Wikipedia said so. So it must be true.
The resultant effect is a whole bunch of Korean BBQ restaurants appearing on TripAdvisor, none of which we had the opportunity to try. But hey, knock yourselves out once you get sick of hotel food.
Am definitely looking forward to going back to Cebu again, hopefully this time with more friends so we can do some island-hopping and enjoy the sun, sea and Philippine's many awesome sand bars together.
I'm surprised more Singaporeans don't go there (we only encountered ONE Singaporean family our entire weekend). Sure Bali may have more to do, but Cebu's beaches win hands down. After all, it's like a cheaper version of Maldives.